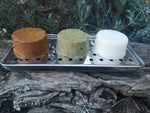 How to make your Soap/Shampoo Bars LAST
Something that is really important with hand made soap is storing it well.  As natural soap makers we don't want to add anything that isn't really necessary, so we don't add chemical hardeners.
Because of this if you don't dry out your soap/shampoo you will end up with a soggy mess and feeling like you have wasted your money as way more will be down the drain than necessary.
So what to do?
DO NOT LEAVE YOUR SOAP SITTING IN WATER
There are many products you can use to keep your soap well dried out.

Block Dock - they suction to hard surfaces and drain bars really well.

Stainless Steel Draining Trays



A budget option is to have a folded up flannel and place your soap onto that.

We also have these beautiful wash mitts, soap that up and put the soap down.