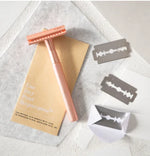 Let's talk Metal Razors or Safety Razors
Safety Razors are one of the best comebacks of low waste solutions.
This is the way shaving was back in the day before plastic came along.
Although they can seem like a scary contraption they really aren't and have so many benefits:
* Very Low Waste - if you are on my website I'm guessing you care about lowering your waste.  You buy the metal razor once and then you buy replacement blades which are recyclable.
* Closer Shave - you get a much nicer & closer shave with a Safety Razor.
* Look stylish and beautiful - with choices like Slate and Rose Gold even.
I know many people are reluctant to try Safety Razors as they are worried of cutting themselves.  I can absolutely promise you I've had worse cuts with plastic razors.  I won't lie and say I've never cut myself with a safety razor because that bit on the back of my ankle, if I'm rushing, I've still done it occasionally!  However it's really only ever happened if I'm really rushing!
Safety Razors are slightly different to use than plastic Razors.
How to use:
There is a bit of weight in a Metal Razor and the great thing about that is that it does the work for you, you do not need to press, let the weight of the razor do that for you.
Take your time for your first go, get used to the angle and pressure and take it slow till you are used to the difference.
You can shave anywhere, back, sack, crack, whatever haha, just keep the skin tight and go easy.
Store out of the shower when not in use for longevity.
Do your absolute best not to drop your razor, they are pretty tough being metal but if you do drop it from high at the wrong angle you could snap the head off.
Blades will last quite some time, if you can be bothered to take them out of the razor and dry them off between use they will last even longer.  Left wet you may get a bit of rust on the blades.  You can rub a little oil on the blade to prolong it's life a little longer.  Any safe body oil will do, or even olive oil.  But even if you don't do any of those things the blades still last somewhere between 5-10 shaves each edge of the razor.
So which one to buy?
I am now only stocking
Caliwoods Razors
, this is another NZ female-led business and it feels good to support local.  The other razors I have been supporting overseas businesses so good to keep it local.  I also know if I have any issues I can rely on support.
The razors come in 3 beautiful colours with long handles.
All of the razors I have on the website take the same double edged blades, you can buy a 5 pack of
Astra
 for only $3 or a 20 pack of
Caliwoods
 for only $8.50.
We have great options for storing your razor too.  Keep them dry when not in use.  You can use a
Caliwoods Razor Stand
or a
Shave Dock
 which can also hold your shave soap.  For shaving we recommend,
GF Beer Soap
or
Perky Purple Peppermint
.
Happy Shaving!